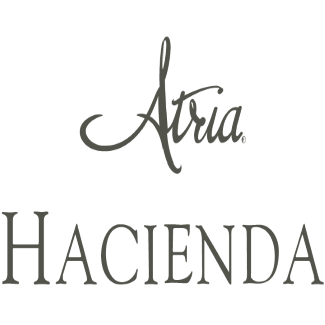 Atria Hacienda
44600 Monterey Ave, Palm Desert, Ca 92260
|
License # 336400075
Starting Rate: $3,695
(951) 476-1328
Senior Living Guide
---
Max Residents: 266
Vacancies: 0
Licensed: 29 Years, 4 Months
About
Independent, assisted living, and memory care in Palm Desert, CA!
Atria Hacienda in California's Coachella Valley provides views of the stunning Santa Rosa and San Jacinto mountains, which serve as a backdrop to this senior living community with resort-style amenities in Palm Desert, CA. Atria Hacienda offers many indoor and outdoor amenities. The Grille serves gourmet meals, including vegetarian, with full table service. Swim in the outdoor pool, or work out in the fitness center before scheduling car service to run errands. Unwind with a massage or soak in the hot tub, or get a salon pedicure.
The studio, one- and two-bedroom apartments at Atria Hacienda are nestled within a thoughtfully and beautifully designed community that offers all-inclusive amenities. The apartments feature walk-in closets, and each has a balcony or patio. You will control your own thermostat and you can choose a kitchen or kitchenette. Housekeeping, linen services and maintenance come standard. Furnished memory care apartments enhance the comfort and safety of residents and offer families extra peace of mind.
The benefits of living at Atria Hacienda means you can get a haircut, a massage and a workout all within a day because the community offers these amenities and services not far from your apartment door. Atria Hacienda's grounds also provide a resident garden space and walking paths to share with friends. You also can walk your pup in this pet-friendly environment. The game room and cocktail lounge offer spaces to socialize with friends.
Choose to dine well
Atria chefs turn eating into a gourmet experience. Fresh, nutritious meals make dining a pleasure, whether you dine indoors or outdoors. You will never need a reservation at The Grille at Atria Hacienda, which provides full table service and includes vegetarian dishes on its menu. You can entertain family and guests for special occasions in the private dining room, or share a meal with neighbors at the outdoor grill and dining space.
Choose to live eventfully
Atria's Engage Life® program encourages taking part in the four lifestyle choices that contribute to well-being: exercise, connection, nutrition and purpose. Programs offer opportunities to sharpen your mind and stretch your body with word games and body conditioning movement. Recurring programs include Senior Tech Hour, movies and musical performances. Memory care residents play brain teasers and engage in laughter therapy.
Call to learn more!
LookingforCare.com publishes public information and makes it easy for visitors to contact our Senior Living Guides.
Even if you call us, or contact us another way, LookingforCare.com will NEVER share your contact information with any provider without your expressed permission.
At LookingforCare.com, your privacy is not a commodity.
---
Access to Licensed Staff or Nurse on Staff
Types of Apartment / Rooms
Licensing
Last DSS Visit - 5/12/2023
Allegations Substantiated
4